Lair of the Stealth Bunnies
|
home
Tiki
One day, I volunteered at an SPCA adoptathon...
And adopted.
Tiki was a two year old cat who ignored everyone else, but purred and batted her paws at me. Amid cheers from the other volunteers, Tiki came home to become the next inhabitant of the Lair.
Tiki wasn't quite sure what to think about the rabbits, considering all but Gem were bigger than her. She backed down to the others, but thought that tiny Gem would be fun to chase....
...until tiny Gem punched her in the nose.
Tiki never chased another rabbit. Instead, she has become rather motherly to them, even washing their faces (although from the look on her face, their fur must not taste like kitten).
Tiki is a very mild, sweet tempered cat who has never forgotten that a home is better than the streets. She purrs almost constantly and loves to snuggle. Sometimes she doesn't even seem to think she's a cat; she flops to the floor like a dog and even fetches her toys when tossed across the room.
Tiki on Gerbil Patrol: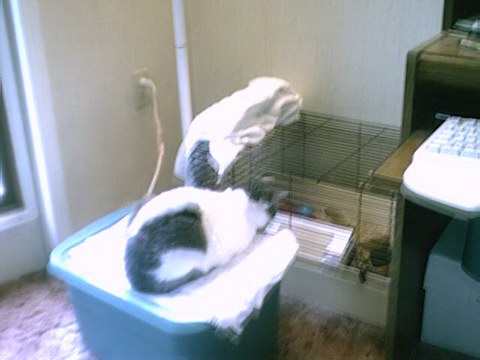 ahhh... sun, a window, and a comfy seat....